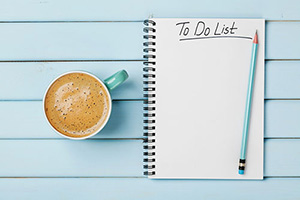 Checklist for New Postdocs
This page details what you should plan to do before and after your arrival at Tech. This list may not be completely comprehensive. So, be sure to consult with your hiring school/unit to ensure that all requirements have been met.
Questions? Email the Office of Postdoctoral Services.
Blank Space (small)
(text and background only visible when logged in)
Before You Arrive
Complete Required Paperwork
Be sure to complete the necessary Office of Human Resources paperwork. 
Contact your school or unit's human resources representative to ensure that the required paperwork has been submitted.
Find Housing
Visit the Welcome to Atlanta page for helpful resources on finding housing options and roommates.
Join Us for Opportunities To Meet New Postdocs
Postdoc Chats are an informal opportunity to meet other postdocs. They happen every other week.
Meet Your Postdoc Cohort is a chance to meet postdocs who have joined Georgia Tech in the past few months and learn about resources available for postdocs. These sessions are offered about once per semester.
Announcements of upcoming sessions of these and other events will be sent out via the newsletters.
Sign Up for the Postdoc e-Newsletter
The Office of Postdoctoral Services sends weekly newsletters that include information about events, fellowships, and other opportunities of interest to postdocs. You are welcome to subscribe to the newsletter. You may also want to ask your colleagues or unit administrator(s) if there are any mailing lists managed by the unit that would be useful for you to subscribe to.
Connect With Us on Social Media
Visit Human Resources
Your school or unit's human resources contact will guide you through how to complete the necessary paperwork, including payroll and benefits forms. You can find out more about what documents to bring on your first day as well as orientation material on the Tech Human Resources onboarding page for new employees. You will then visit the Office of Human Resources to:
Complete new hire documents.
Sign tax forms (you'll need to show your photo ID and visa documents).
Obtain a BuzzCard, which is your Tech identification card.
Create an email account.
Obtain a temporary parking permit, if needed.
Attend Welcome to Tech New Employee Experience
New Employee Experience is held every two weeks. Schedule your orientation during your on-boarding session at the Human Resources (HR) Customer Service Center. You may also contact your department's human resources representative for scheduling. This session gives you an opportunity to learn more about the culture, values, vision, and mission at Tech, including a Trolley Tour of campus.
Read Information for New International Scholars
J-1 exchange visitors, please read through the Office of International Education's information for J1 scholars and interns and complete the required forms on I-Start.
F1-OTP visa holders who graduated from Georgia Tech, please see the F student resources from the Office of International Education.
H-1B and incoming F-1 visa holders will need to complete online forms described on the Global Human Resources site.
If you don't have a Social Security card yet, you are required to apply for one within 10 days of your arrival in the United States. A social security number is required of every employee in the United States.
Enroll in Benefits: For Postdoctoral Fellows, Teaching Postdocs, Brittain Fellows and Other Employees
Information on benefits and an opportunity to talk with a benefits counselor is provided during new employee orientation. For enrollment information, view benefits for newly hired employees. If you need advice, benefits counselors are available to assist you. You can schedule an appointment or submit questions online.
Retirement. Participation in a retirement plan is mandatory for all employees (including postdocs) and the plan selection can never be changed. If you do not select a retirement plan within 60 days of hire, the system will automatically default you to the Teachers Retirement System of Georgia (TRS). The TRS plan requires 10 years of work within the USG system, which is unlikely for most postdocs. For this reason, the Optional Retirement Plan (ORP) is selected by most postdocs. View instructions on how to select ORP.
Medical and Other Benefits. Participation is optional, and you must enroll within 30 days of hire.
Enroll in Benefits: For Affiliate Postdoctoral Scholars (Postdoctoral Fellowship Recipients Who Are Eligible for Employee Benefits)
You are eligible, but not required, to enroll in Georgia Tech's voluntary student health insurance plan (SHIP). View instructions on how to enroll in the voluntary plan.
Note that many fellowships or training grants can reimburse you for health insurance benefits premiums. Contact your grant manager or program director to check on how this may work.
Postdoctoral Scholars enrolled in the Student Health Insurance Plan (SHIP) may use STAMPS student health center on a fee-for service basis (billed to the health plan). STAMPS services are not available at no-charge, as may be indicated on the SHIPS website, because Postdoctoral Scholars do not pay the student health fee (nor can they opt to do so). To make an appointment, you must call and identify yourself as an "Postdoctoral Scholar".

If you have any questions on about the SHIP and how to enroll, please direct them to Jennifer White (jennifer.white@health.gatech.edu).
Obtain a Parking or Transportation Permit
If you need a parking permit, visit Parking and Transportation before your temporary permit expires. Tech encourages taking advantage of alternative transportation options like Marta, carpooling, and buses. View information on these programs on the Commute Options webpage, including discounted Marta passes for Tech employees.
Start Planning for Your Career
Once you get your research started, you should take advantage of the career development and networking opportunities that are available at Tech.
We offer Designing Your Postdoc sessions where you can design thinking to the wicked problem of a comprehensive postdoctoral training plan and make a bold plan that amplifies your interests and values as you transition to your career of choice.
Many postdocs find it helpful to write down short-term and long-term goals to make sure they stay on track.
Annual Ethics and Compliance Certification
The University System of Georgia ethics policy applies to all Tech employees. Each year, Georgia Tech employees are required to affirm their understanding of the Institute's and the University System of Georgia's code of ethics, conflict of interest, and cyber security policies. You will receive an email with a link when it is time to participate, usually in March.