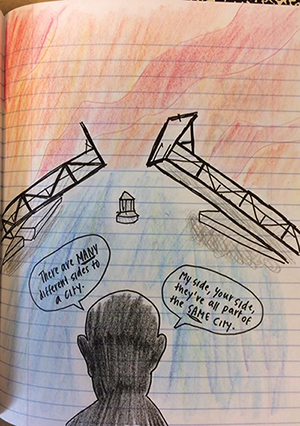 Apr 13, 2018 - Atlanta, GA
This Wednesday, Georgia Tech undergraduate students will showcase self-produced comic books that highlight social issues facing the Atlanta area. Visitors can read comics centered on topics such as gentrification around the Atlanta BeltLine, poverty reduction, and sustainable development.
Presenting students have produced their comics as a part of a special-topics English 1102 course taught by Brittain Postdoctoral Fellow Leah Misemer. A first-year writing instructor, Misemer wants to impress upon her students the value of different types of literary styles, including comics and graphic novels.
"A number of organizations and professionals — from the UN, to doctors and the journal Nature, to social activists — have started to realize the value of comics for communicating a message to a broad audience," said Misemer. "Part of the appeal is that people are more likely to read a comic than an essay, but it's more than that. The ability to layer images and text in multiple ways provides an efficient way to communicate a message that easily captures ambiguities and tensions that can be difficult to convey in written text alone."
For the class, students worked with local community organizations to highlight issues relevant to Atlanta. The course is offered in partnership with Serve-Learn-Sustain. Through the partnership, Misemer was able to coordinate the class with the Center for Sustainable Communities and the Grove Park Foundation, two Atlanta-based nonprofits.
"I encourage students to be active citizens by identifying and helping to solve problems in their communities, and the Atlanta focus helped localize the issues," said Misemer. "The comics we read as models discussed cities like Chicago, Paris, New York, and Tokyo, but I wanted students to apply those lessons to a place relevant to them."
Comics on display include a work by students Bianca McAlister, Maria Carrizo, Meghan Vierheilig, and Abhay Iyer about the sustainable development programs initiated by Center for Sustainable Communities president Gary Harris.
Misemer will offer similar courses in the future. Her Fall 2018 course will focus on "graphic medicine" — comics or graphic novels for use in public health. The course will be specifically focused on raising mental health awareness.
In fact, Misemer's course is just one of many novel learning opportunities available to undergraduates. Other English 1102 courses offered this semester included Harry Potter and the Material Object, Haunted Americas, and Food Literacy in Atlanta.
In total, 10 comics will be on display for patrons to explore. In addition to their comics, students will present work highlighting innovative combinations of text and images using low tech tools provided by Tech Library's Communication Through Arts program. Students will be present at the exhibition to discuss their work, and the comics will remain on display after the exhibition ends.
The exhibition will be held from 6 to 8 p.m. on Wednesday, April 18, on the third-floor of Clough Undergraduate Learning Commons near the center stairwell.