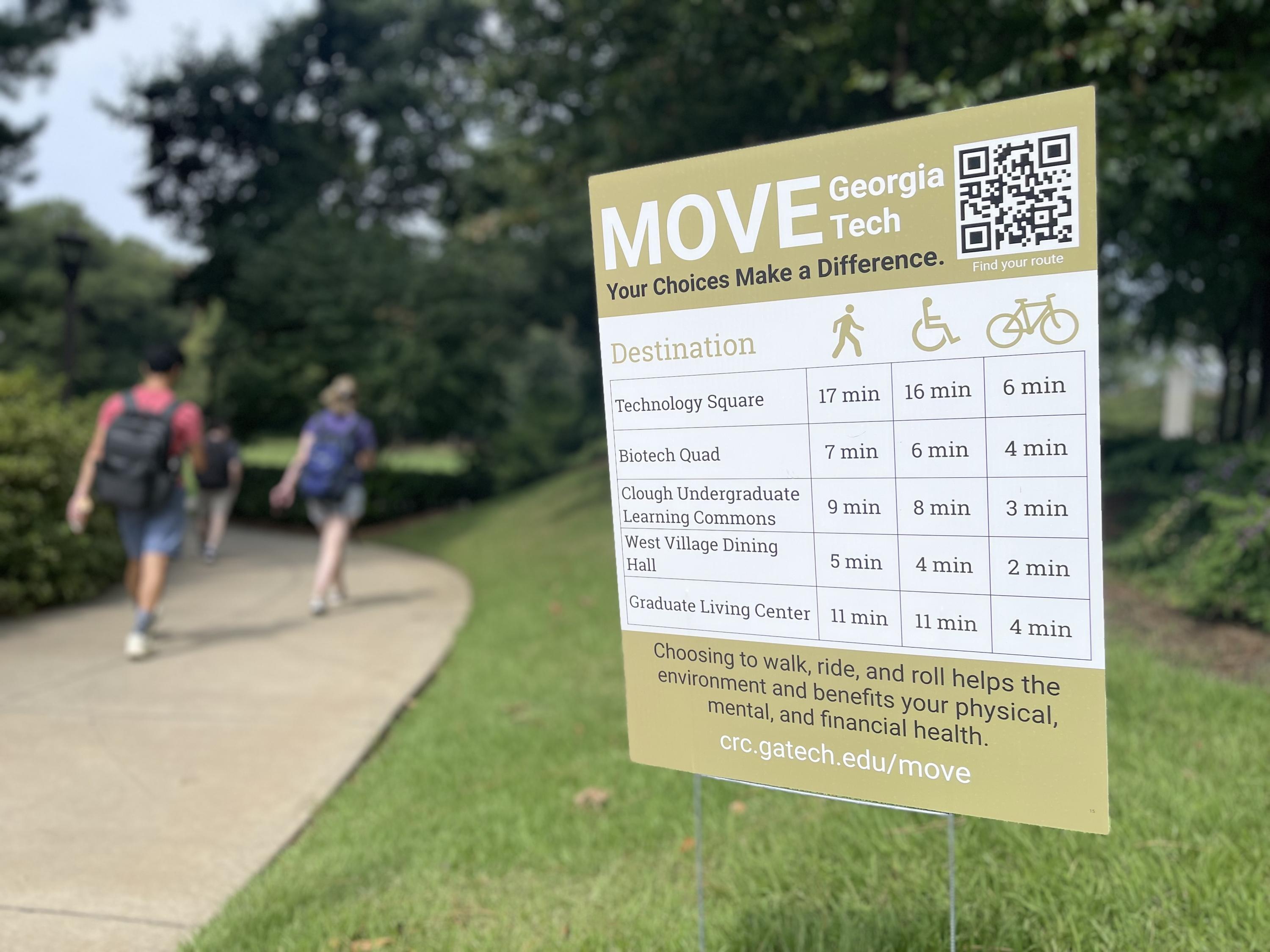 Sep 08, 2021 - Atlanta, GA
Atlanta is known for being a car-centric city. A new campus initiative from Campus Services seeks to challenge that perception. "Move Georgia Tech" will encourage the campus community to choose "active," or human-powered transportation for traveling to, from, and around campus.  
Georgia Tech's campus can be traversed in twenty minutes on foot and is considered "very walkable." With a Walk Score of 73, most errands on campus can be completed without the use of a car. Georgia Tech is also recognized by the League of American Bicyclists as a Gold Level Bicycle Friendly University, while Atlanta is included on Bicycling Magazine's list of the "50 Best Bike Cities." There are over 120 miles of riding infrastructure in the city, including a new protected Light Individual Transportation (LIT) lane on Spring Street through Tech Square.     
Move Georgia Tech will promote the efficiency of active transportation and encourage the campus community to consider the impact of their transportation choices on their physical and mental health and the environment. 
"Only 20% of the adult population get the 150 minutes of weekly exercise recommended by the American Heart Association," says Caroline Dotts, interim senior director of Campus Recreation. "Walking to class or meetings and commuting by bike are convenient ways to integrate activity into your day and have proven just as effective at improving physical and mental health as a structured workout."  
Active transportation has been found to reduce stress and anxiety and increase positive mood, but you do not have to rely exclusively on an active commute to get the benefits. People who commute using public transportation average 19 minutes of activity per day, as they move between stops and their destination, and enjoy the same social connectivity as active commuters. 
Walking and riding emit a fraction of the carbon emissions of driving. Georgia Tech is committed to being carbon neutral by 2050, and, as the transportation sector is responsible for 29% of the greenhouse gas emissions in the United States, attainment of carbon neutrality will require that more members of the campus community choose sustainable transportation options. A 2021 study revealed that just swapping one car trip per day with a form of active transportation can have a significant impact on personal carbon emissions. 
"The message of active transportation is empowering," says Move Georgia Tech organizer Becky James. "The daily choice to walk, ride, or roll versus drive may seem small, but it is a change that we can implement now that will not only benefit the planet but our personal health. When you consider the potential for the collective impact of our campus community, it is exciting."   
Learn More and Get Moving 
Take the online Ride Smart class to learn about riding bikes and scooters in an urban environment. 

Discover campus resources for active commuters, such as shower locations, secure bike parking rooms, and bike repair and maintenance options.     

Learn about living more sustainably as a student with the Sustainable Living Guide.