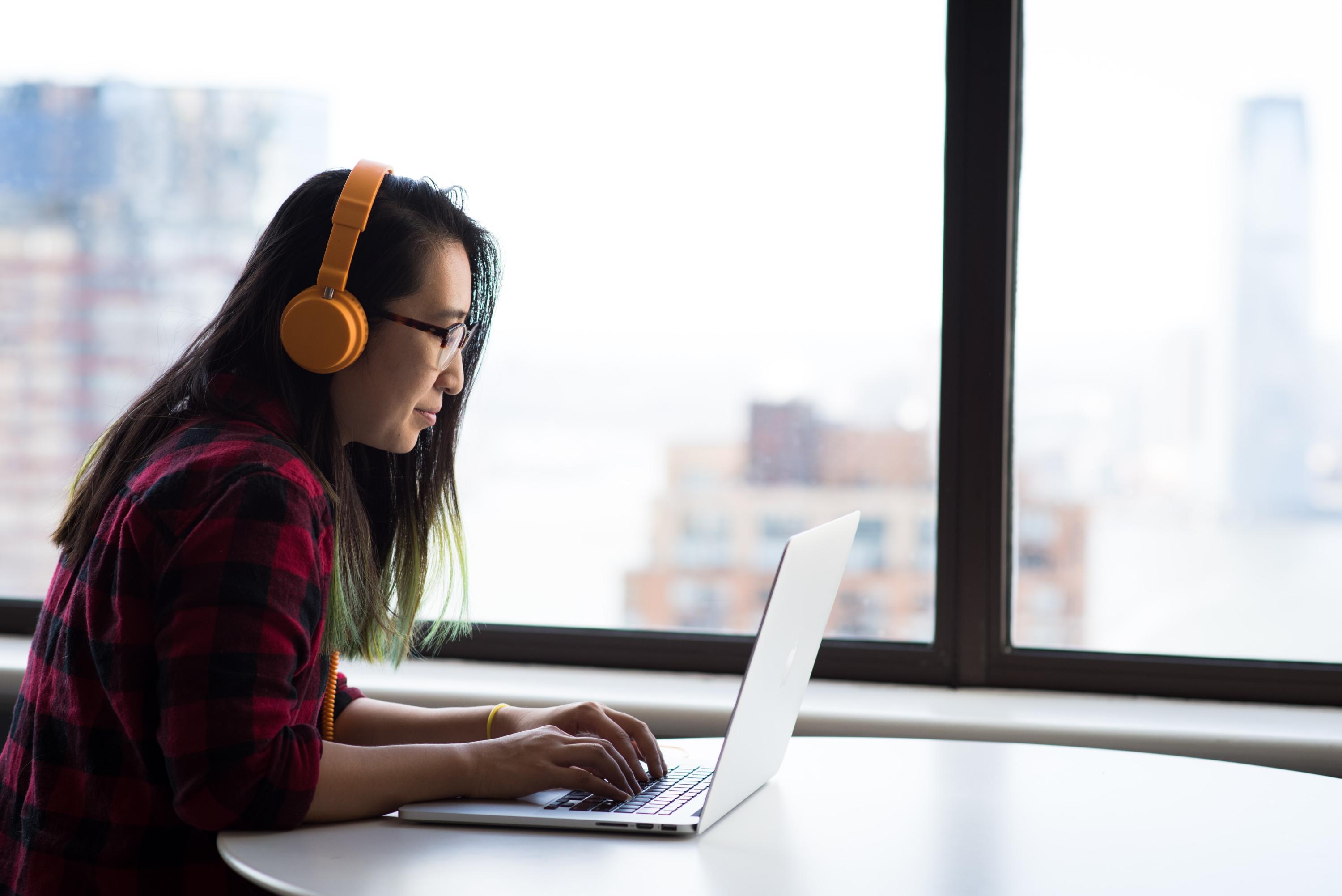 Sep 30, 2022 - Atlanta, GA
The community and connections made while attending Georgia Tech are just as important as the classes themselves. When you're a student who goes to class on campus, these community connections can happen organically, but online or hybrid students have to be more innovative in finding ways to connect.
"A lot of times when you have an online program, you feel like an online student, but not really that university's student," said Ana Rusch, associate director of diversity, equity, inclusion, and student life for the Online Master of Science in Computer Science (OMSCS) in the College of Computing. "You should have that pride. You should be a part of those traditions. It's so amazing to give students that pride and connection to Georgia Tech." 
Rusch joins David Joyner, executive director of online education and the OMSCS in the College of Computing, to discuss ways online students can connect with the Georgia Tech community. 
Join a virtual club. Rusch and Joyner have been cultivating an online student center to help centralize virtual club opportunities, facilitate connections, and create community.  
"Online students are very self-starting, and they take ownership," said Joyner. "We've seen them starting some of their own organizations. They started the Women in Tech club several years ago. They set up their own local meet-up groups, their own special-interest clubs." 
According to Rusch, the online student center allows the club connections to happen organically, and they're still 100% student-led.
Scope out the forums and engage with online communities. "Slack and Reddit are the 'lobby' for some of these engagements," said Joyner. "You join Slack because it's where we point people, but then from there, you find out about these other communities and other places." 
An alumnus recently shared with Rusch and Joyner that one of the things he misses most about being in the online program were the human connections he made as an online student. 
"I think when you're online, it can help you engage more and maybe even allow you to feel more comfortable with being your authentic self," said Rusch. "Many people come together on Slack and Reddit. When you're an online student, you can connect via Reddit, even during working hours. It's always available 24/7. You have this great group of friends that you create–this community–that's always there."
Stay in the know about virtual events to attend. Rusch created a running calendar that lists all of the on-campus events that are either online, hybrid, or have a streaming option. 
"It has really connected this bridge between our [online] students and Georgia Tech," said Rusch. "Some of our students don't miss a single event. There are so many amazing online events and opportunities there."
Connect with professors. "Make yourself known to your professors," said Rusch. "We have coffee hour chats. You don't have to stop by every week, maybe just once or twice in the semester. Make yourself known in any which way that you feel comfortable with and makes sense to you, whether it's coffee hour chats or posting on a forum or submitting your project in the student showcase."
For Joyner, his online students are able to make long-lasting impressions through their virtual "paper trail." 
"Being a student online means that pretty much everything you do is passively aggregated," said Joyner. "When I get an email from a student asking for a recommendation, I'm able to pull up your entire assignment history and can talk about your individual projects." 
Use the course forums to make connections. "The course forum is really what I consider the 'classroom' to be," said Joyner. "The course forum is where the discussion that would happen in person happens online. The structure of the forum gives students a lot more ownership." 
Joyner explains that while it would be weird for a student to raise their hand in class and say, "I know you have a lesson plan for today, but I've got something I want to talk about." 
"Online, you can do exactly that," said Joyner. "You're not competing with the instructor for some finite time resource. You're able to post a thread that says, 'I'm interested in starting a study group. Who would be interested in that?' Or 'Anyone else live in Atlanta who wants to form a study group for the semester?' You can do that without it feeling as if you're competing with the professor."
Create goal-oriented virtual meetups. In Joyner's experience, if a virtual meetup doesn't have a goal, it ends up being the first thing that falls off the to-do list due to everyone's busy schedules. "When there is a shared goal in mind, it creates some kind of inertia around being in touch with one another."
Participate peripherally. "Being aware of other students of the community as a whole has an effect on its own that can stop you from feeling isolated," said Joyner. "Even if you never engage in an event, even if you never post, even if you never make a friend that you follow up with later, just seeing other people going through the same kind of struggles, same kind of exercises, and knowing that you're not alone is a powerful thing–just knowing that you are part of something."