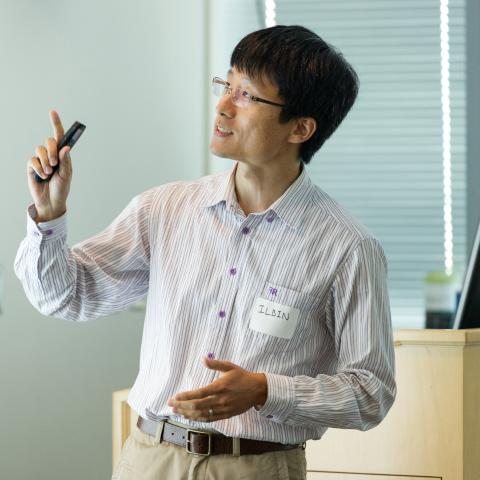 Sep 27, 2016 — Atlanta, GA
Postdocs@Tech and the Office of Postdoctoral Services are proud to recognize the winning presenters from the third annual Georgia Tech Postdoctoral Research Symposium held on Sept. 22, 2016.
Best Talk, sponsored by the Office of the Executive Vice President for Research
Ilbin Lee, Industrial and Systems Engineering, Serban group, "Is preventive dental care for children cost-saving? A study of the Medicaid-enrolled children across six southeast states"
Outstanding Presentation from the College of Computing
Aibek Musaev, Computer Science, Pu group, "Physical event information service based on composition of physical and social sensors"
Outstanding Posters from the College of Engineering
Sunghan Kim, Materials Science and Engineering, Tsukruk group, "Flexural Properties of Ultrastrong Cellulose Nanocrystal-Graphene Nanomembranes"
Zhenglun (Alan) Wei, Biomedical Engineering, Yoganathan group, "Towards Modeling Patient-Specific Compliant TCPC"
Outstanding Posters from the College of Sciences
Michelle Gaines, Physics, Fernandez De Las Nieves group, "Controlling the Adhesion of Microgel Particles Adsorbed to a Surface for Improved Biomaterial Function"
Dustin Huard, Chemistry and Biochemistry, Lieberman group, "The Aberrant Chaperone-Client Interactions of Grp94 and Myocilin"
Outstanding Poster from the Ivan Allen College of Liberal Arts
Yehyun An, Public Policy, Kingsley and Matisoff groups, "The Factors that Affect the Environmental Review and Project Design in Transportation Projects"
Thanks to the Executive Vice President for Research, the Deans of Computing, Engineering, Ivan Allen, and Sciences, and all of the judges for making these awards possible.