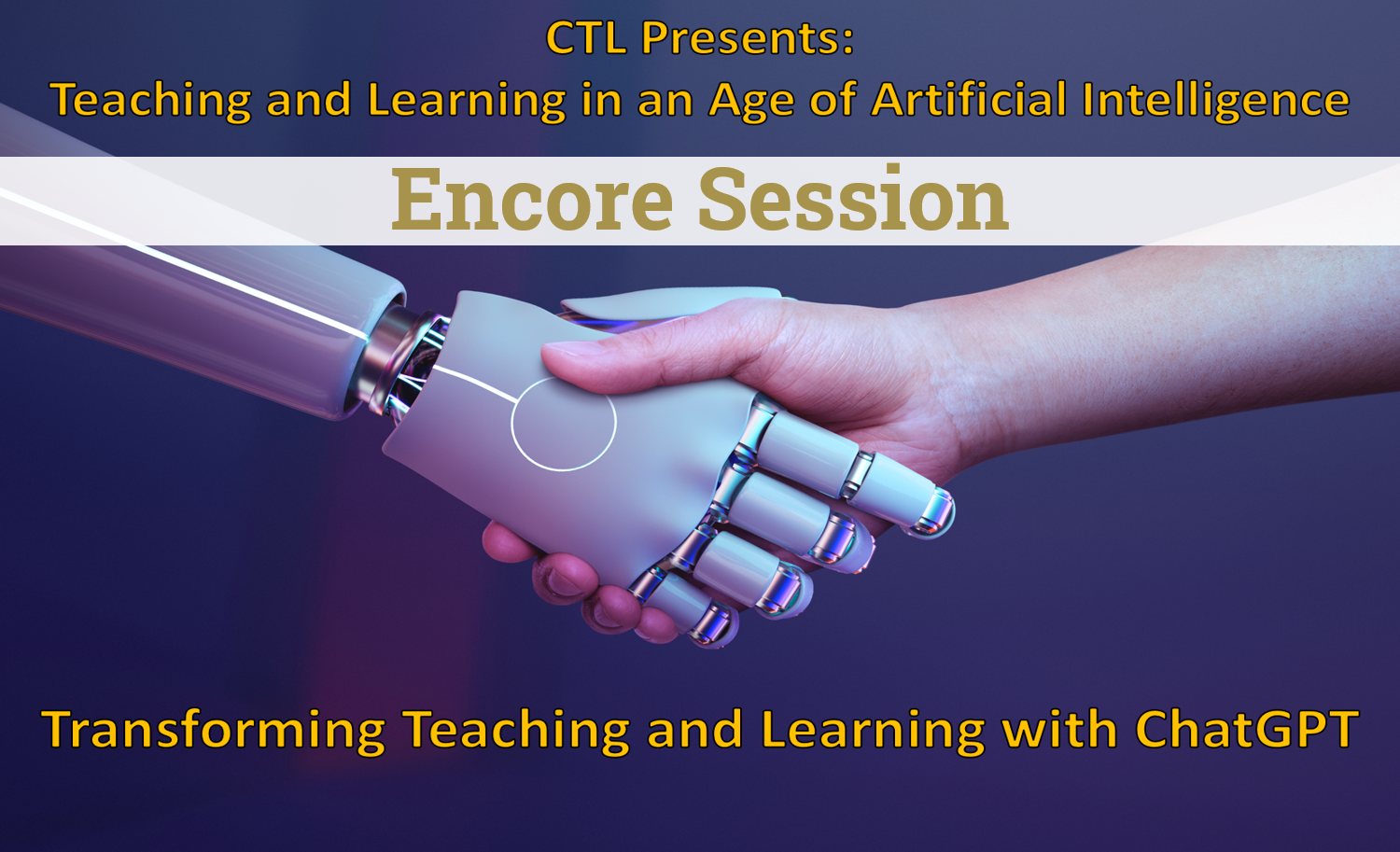 Due to an unprecedented response at the initial event, we are holding a second encore session of this workshop for all those who were unable to signup before we reached capacity and for all those who were unable to attend for other reasons. This encore session will be held virtually (details below) and will not have a registration cap. So if you were not able to join us for the initial event or if you just want to attend it again, read below and register for this encore session.

You've probably already heard the buzz around ChatGPT, but have you explored how it can be used to enhance your teaching and student learning? Have you thought about how you can use the tool to transform your assignments, create innovative learning materials for your students, or even generate unique experiences to personalize learning?
In recent months many Georgia Tech professors have been using ChatGPT and experimenting with how it can enhance their teaching and now they're ready to share their innovative uses and work with you to develop new ideas and techniques for using AI in the classroom.
As part of CTL's workshop series Teaching and Learning in an Age of Artificial Intelligence, this workshop, Transforming Teaching and Learning with ChatGPT, will spotlight several examples of ways that GT faculty are leveraging ChatGPT - and other AI applications - to create innovative student learning opportunities, expand course content, and improve assessment design. The session will provide opportunities to collaborate with GT colleagues to create and share your own ideas on ways that AI technologies can be used to expand teaching approaches and transform student learning. 
 
The encore workshop will be held on Thursday, May 11th from 5-6:30pm (Est) via Zoom (a Zoom link will be sent to all those who register for the event).
The event is hosted by the Center for Teaching and Learning with facilitators Dr. Peter Ariev and Dr. Vincent Spezzo.

Special guest speakers will include:
Tammy McCoy, PhD, Academic Professional, Center for Teaching and Learning
Mark Moss, Ph.D. Senior Lecturer, School of Computing Instruction
Emily Weigel, Ph.D. Senior Academic Professional, School of Biological Sciences

Join us for an innovative and lively online discussion as we explore ChatGPT together and carve the path for an AI-augmented teaching and learning future.
 
If you plan to attend, please click here to complete this registration form to receive the Zoom link for this event.